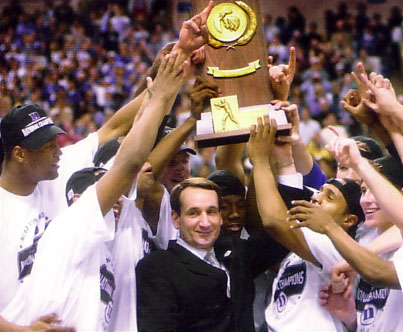 Yeah, you read it right. Duke. Arguably the most dominant team in college basketball over the last twenty years is in the NCAA National Championship. Again. No biggie.
So who are they facing in Indianapolis tomorrow night? Powerhouse Kentucky? Overall number 1 seed Kansas? Repeat National Champ UNC (who, btw, didn't even make the tourney…LoL)? Or maybe title game returner Michigan State? Nope.
Butler. Yeah. A "mid-major" (as Brad Stevens rolls his eyes) from the Horizon League. Yeah. Not ACC, Big-East, Pac-10…Horizon League.
The Butler Bulldogs are playing the Duke Blue Devils in the NCAA National Championship. For some reason I feel as if typing this information over and over, and simply stating facts about both of these teams will make my point better. Facts like, the fact that Duke has 10 McDonald's All-Americans (national high school stars recruited by Coach K), and Brad Stevens–who at age 33 is the second youngest coach to take a team to the title game–has a team full of local boy, Hoosiers.
Or maybe the fact that while Butler's touted defense is their strongest attribute, West Virginia's defense is far superior, and has been implemented against better opponents all season long (in the Big East) and Duke ripped right through their defense last night in Indianapolis.
Perhaps the fact that, while Baylor has several tall gentlemen, listing one player 6'10" or taller, Duke has four players at least that tall, including 7'1″ Brian Zoubek (aka "Zoubs"–thanks to Clark Kellogg).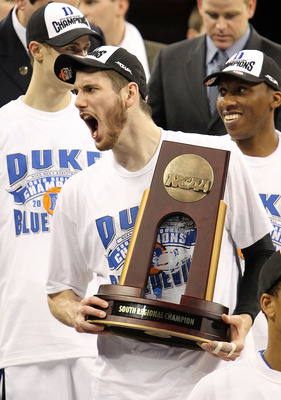 Or what about the fact that Duke starting guard, Nolan Smith's father, Derek, defeated UCLA in Indianapolis for the NCAA Championship. Yeah. Thirty years ago. Same city. The dude's dad. Then Derek went on to play nine seasons in the NBA before retiring early to spend time with his two kids. Talk about a good guy. Then…well, I don't want to ruin it, but it's a heart-wrenching/heart-warming story. Watch it here…or here…or read all about it here.
And what about the fact that "Stevens" doesn't sound nearly as cool as Krzyzewski. Sheesh.
But I digress…
All in all, my "point" I guess, simply, is just that Duke's gunna destroy this team. Immensely. As in, eviscerate, embarrass and/or demolish the poor Bulldogs. Luckily the Lucas Oil Arena is only 6 miles away from the Butler campus, b/c they will be crying the whole way home.
Vegas odds have Duke by 7, but I gotta go at least double that. Duke by 16. Done deal.
You heard it hear first (or …10,000th, whatever, you heard it hear as well), Duke wins tomorrow night. That is all.